Though it took me some time, I finally made it to Atoboy, a highly acclaimed restaurant that explores the creative small Korean plates called banchan. The difference between the banchan you do get at most Korean restaurants and what Atoboy serves is the fact these are thoughtful plates – carefully devised flavors and ingredients and it's a larger portion. They serve a set menu of 3 plates for $42 (and there are supplement plates if you like to accompany your meal).

The salmon, melon, yuzu and ricotta cream is an interesting salmon carpaccio with slices of soft, gently sweet melon tucked in between the fish and the drizzle of ricotta cream gives it a little bit of pleasant richness. The beef tartare was delicious especially with the small stack of fried seaweed chips to give it an extra crunch and gentle umami flavors.
The sunchoke, oyster mushroom, black truffle, orange was a delicious vegetarian dish. Soft, juicy mushrooms mixed with the slices of crispy sunchoke chips and the hint of black truffle to boost the fungal flavors so much more. The bits of fresh orange segments added a hit of sweet acidity that works well with this earthy dish. The egg dish is a luxuriously silky smooth egg custard chanwanmushi topped with crispy bits of gim (a species of seaweed popular in Korean cuisine) and heart of palm. We have made it extra special with the supplement of fresh Maine uni (sea urchin).
We also added an extra plate of fried chicken. This isn't the typical Korean fried chicken that some might have encountered from restaurants who specialize in this dish; it lacks a sauce coating (Atoboy's version let you dip your chicken with two different sauces: a rich mildly spicy peanut butter based sauce and a tangy gochuchang ketchup) and the fried coating texture is akin to batter fried that is much thicker than tempura.
The octopus, yellow peach, mojo verde, and fermented dubu was delicious. Tender, seared octopus with a bit of sweet and herbaceous flavors. The lamb, gochuchang, spinach and perilla seed was a very tasty stew that felt comforting but it wasn't too heavy and wasn't spicy either.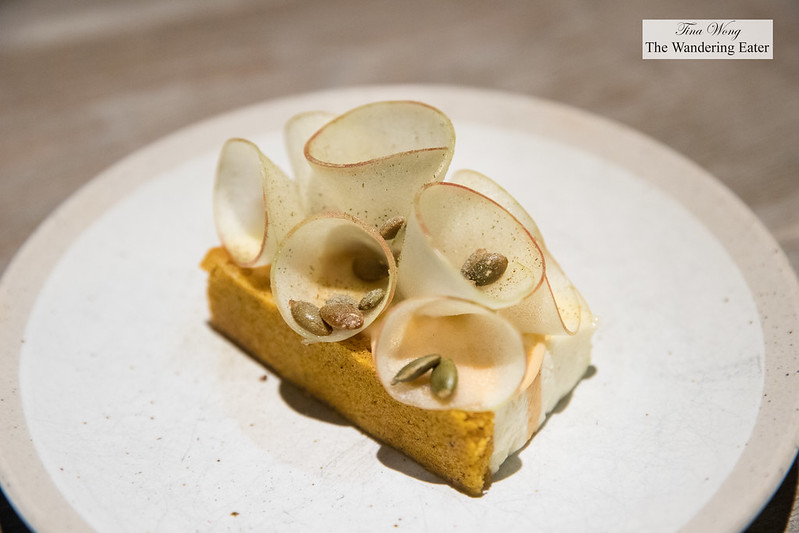 The pumpkin cheesecake with apple cider caramel sauce and soy sauce pumpkin seed was pretty with the thin slices of apples curled to look like calla lilies and incredibly good. The cheesecake was airy and light and isn't loaded with too much spices (thank goodness). The caramel sauce added plenty of cinnamon and clove flavors to five the fall/winter spice punch on the palate. The best part was the soy sauce flavored pumpkin seeds that added a complex, pleasantly salty hit when mixed with the dessert.
Overall, it's a great restaurant that I would go back to. The food is beautifully executed and the flavors and textures of each dish were thoughtful and tasted very good. Service was attentive without being overbearing.
To view more photos of this visit, please view the gallery below or CLICK HERE for the photo set:
[alpine-phototile-for-flickr src="set" uid="26389565@N00″ sid="72157697670433820″ imgl="flickr" shuffle="1″ style="gallery" row="4″ grwidth="1200″ grheight="800″ size="640″ num="30″ shadow="1″ border="1″ align="center" max="100″]
Information:
Atoboy
Official Website
43 E 28th Street
New York, NY 10016
Phone: (646) 476-7217
Related Posts via Taxonomies